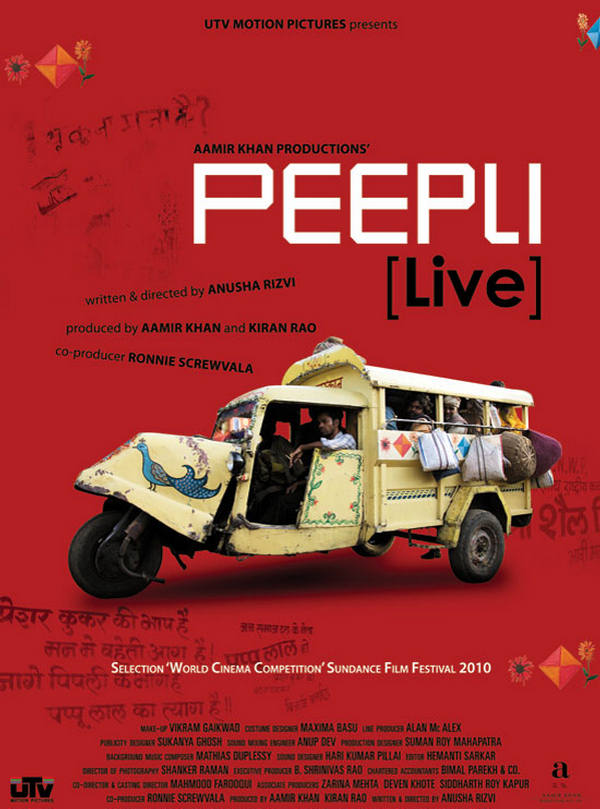 What does the question of suicide form in our heads? Must be something serious, at least for the ones who think of death as being something serious. But Aamir Khan changed the script into one extraordinary aspect that is sure to change our aspect into farmer suicide.
Peepli [Live] is directed by
Anusha Rizvi
and it's producer is
Aamir Khan
, which means there would be seriousness even with the comedy provided in it. Think about a movie that receives 100% from
Rotten Tomatoes
or one that can actually achieves 4.5 out of 5 from
Taran Adash
. It means it has to be special in its ways, there cannot be anyone denying that.
There is the mix of Indian culture in the film, but it shows not the 90s style in movies but the Indian style that is in Madhya Pradesh, their tongue, their culture, their songs and their lifestyle. It is rated with an "A" for adult by the
censor board
which is because of the frequent curses that the characters speak of. But it is nothing different from the actual lifestyle that a farmer has when he is broke and a governmental loan to pay off.
That brings us to the plot, which is simple yet powerful. The plot revolves around Natha, a poor farmer from the village Peepli who would be losing his plot of land due to a unpaid government loan. A fix that is provided by the government is for the farmer to commit suicide, which Natha would commit with the help of his elder brother. But as the time for local elections comes about, a small suicide of a farmer turns into a fierce political rebel, media ramping up at the poor farmer's doorsteps. Each of the groups avenging benefits from it; the current governmental party tries to protect Natha whereas the opposition party gives him bribe to commit suicide. Natha's feelings are not realized except by himself, who in spite of all this wants to protect himself, at least who wants to have his life taken by himself?
The film has produced what one can call "the voice of villagers", the songs mix with the sound of the village, the language plays with it, and most importantly was the story, a story that cannot get better than that. It is a movie, as one of the founding father of Indian film industry, Amitabh Bachchan
commented
: "The film took me back to my place of birth and deposited me within the distinct atmosphere of my roots, and I loved that." It touches every man's heart, the hearts of the millions and speaks the voice of the farmers whose voice was not heard before.